Are you tired of dull stock music and don't have the possibility to record your own music? Then this list is what you're looking for!
What would a Darth Vader appearance be like without the sinister Imperial March? Not too intimidating. How would Aragorn, Gimli, and Legolas look like chasing Uruk-Hai without the majestic melodies by Howard Shore? Pretty boring. And what about Rocky's training without the trumpets in the background? He'd look like a regular jogger. In these and many other cases, music and film have become interdependent. Certain films evoke certain melodies and vice versa. It is undeniable that music has become an integral part of film-making.
If you are looking for music that helps you underline your story with emotions and atmosphere, you should take a look at these websites, where you can acquire quality music for your project.
1. Tunetank
Tunetank is the latest platform for royalty-free music and it raises some pretty compelling arguments for itself. It offers a growing library of music that spans all kinds of genres and is bound to high standards of quality. The website and search mechanics are easy to use and even let you decide which tempo you are looking for in a song. The pricing is very fair and bound to different kinds of licenses.
2. Music Vine
Music Vine offers a wide-ranging selection of music. Having been founded in 2015, Music Vine is one of the newer Music Licensing Platforms out there, so while its library covers all genres, it's not particularly extensive in size. Although the website is beautifully crafted, it's pretty taxing on the CPU for some reason.
3. Marmoset
Marmoset is a Music Licensing Platform with its roots in Portland, which is defining for the music they provide. Its large selection specializes in Indie Music from the Northwest of the United States. While there is nothing to complain about quality-wise, the fairly affordable span of music is quite narrow.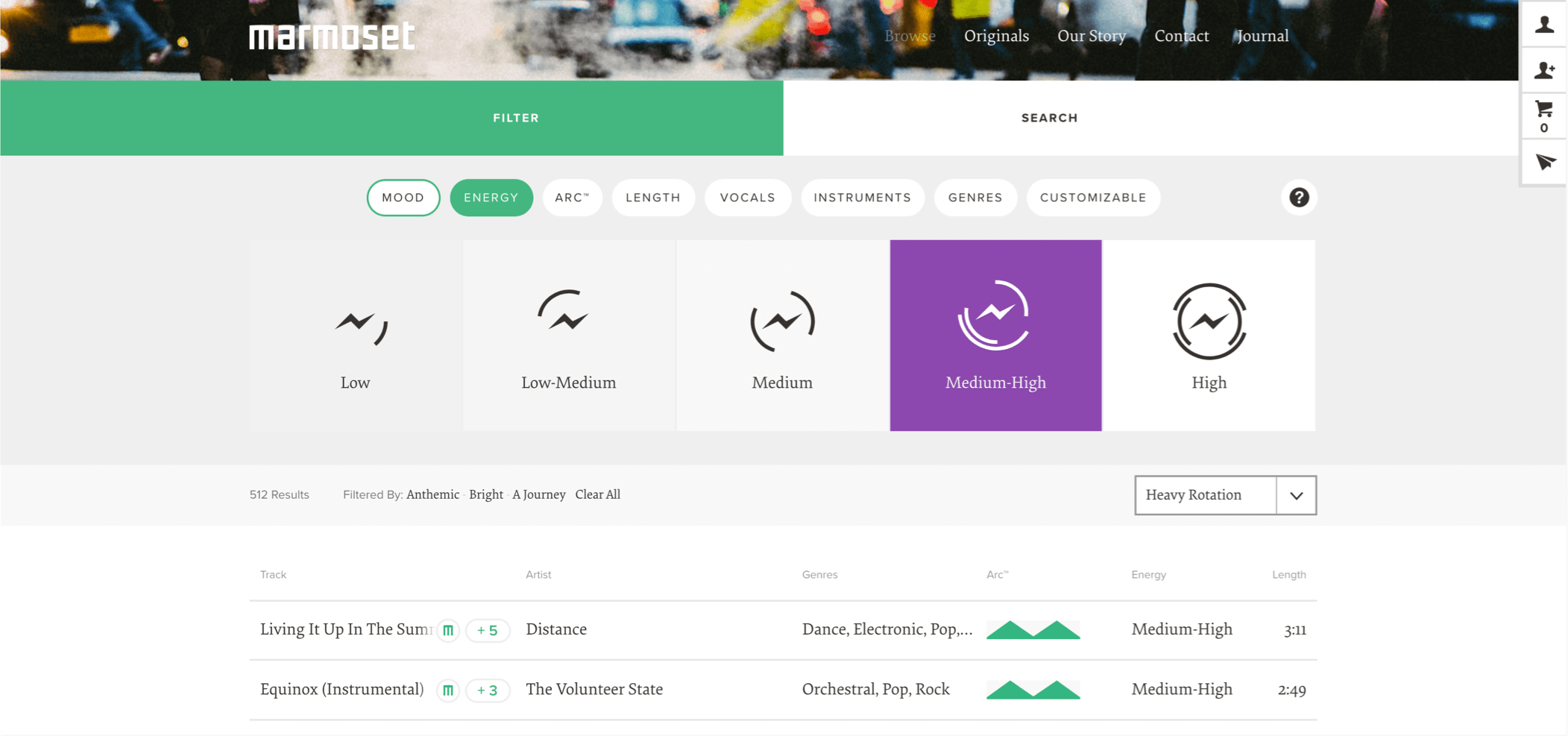 4. Musicbed
Musicbed is one of the most established and well-known websites of this kind. It provides all the basic services that you would expect from it: the search mechanics offer some unique tags and keywords, yet it stays very simple and down to earth, and the quality of music is quite high. While Musicbed can be affordable for non-profit projects, it can get very pricey if you're going to use the music commercially.